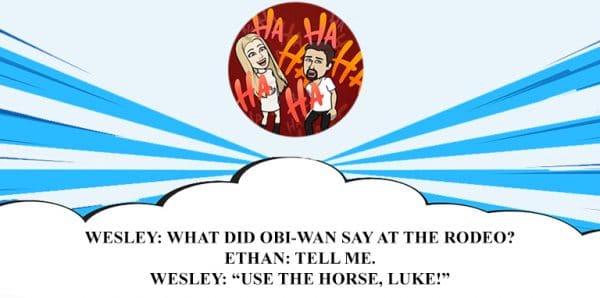 The best Star Wars jokes are here!
Q: Why are there so few Star Wars jokes?
A: There are no Star Wars jokes, all are true happenings.
Q: Did you know that Chuck Norris played a role in Star Wars?
A: Don't make Star Wars jokes with me
I: True, he was STRONG.
Q: Why did Star Wars movies appear in 4, 5, 6, 1, 2, 3?
A: Because Yoda hasn't learned to count properly yet.
Q: What kind of car drives iodine?
A: The To-yoda convertible.
Q: What is the name of a Dutchman who looks alone at the Star Wars?
To: Hans Solo.
Star wars jokes for kids
The father discusses with his son:
– Son, do you know why I call your mother the Death Star? Because it makes my world explode forever!
A kid watch Star Wars on TV and he say:
Dad, this is an cartoon?
Han Solo approaches Chewbacca and tells him:
– Can you give me a picture with you?
– Why? Am I fond of you that you can't sleep without looking at my face?
– Not. My boy doesn't think Bau-Bau exists.
Darth Vader, tired, decides to go out of town. Enter and order. After 5 minutes:
– Boy, what's this, tea or coffee?
– Can't figure out the taste?
– Not.
– Well, if you don't see any difference, does it matter if it's tea or coffee?
Dath Vider it's that dad of the dark side only.