If you want to read stupid jokes but useful, this is the best place.
A stupid man tell to a woman on the street:
Hello, do you want go to my place to night?
Yes, of course…
Great! Let's go to my Lamborghini and their to my house in Las Vegas
Ohhh, yes let's go!
What cold you are…
Stupid situation: Take the airplane and travel quickly into a location. The stupid think is to make more time than personal cars.
New stupid jokes but good
Yeah! Because I used cold water at the shower
This a stupid situation:
ET arrive to earth and say:
One represented of humanity say:
Great, because this is what we do!

Stupid jokes can be good if they have sense. Send us your jokes lines through a contact form.
Stupid jokes but good to say at a restaurant
– Where is the owner of this restaurant? Ask a customer very dissatisfied with the food.
"Sir, the restaurant owner, is across the road," the waiter replied promptly.

Give some good wine from your winery.
OK, take some wine from over 100 years.
Neah, it's just a joke. It's already vinegar.

Question: When do you look with one eye at your mother-in-law?
Answer: When you hit the trigger…
Best stupid jokes but good
A child goes to the pharmacy, gets up to the counter, and the pharmacist asks:
– What do you want to buy, little guys?
– Condoms say the child.
– Don't give children condoms. Please call your father to see what size he needs.
– I understood that you did not give condoms to the children, but my father did not send me. The mother needs them because she goes to the delegation and does not know what condoms she needs.
Do you want more of these jokes? Read the most stupid ones.
Q: Why does a divorce cost so much money?
A: Because it's worth it.
A conductor meets God on earth.
Conductor: Please help me to become one of the best conductors!
God: Son, would you like to be the conductor of my choir of angels and the best composers like Mozart, Beethoven, and others to write for you?
Conductor: That would be the most beautiful thing!
God: Get ready, tomorrow at 10, you have the first rehearsal in heaven!
You are so stupid by beeing good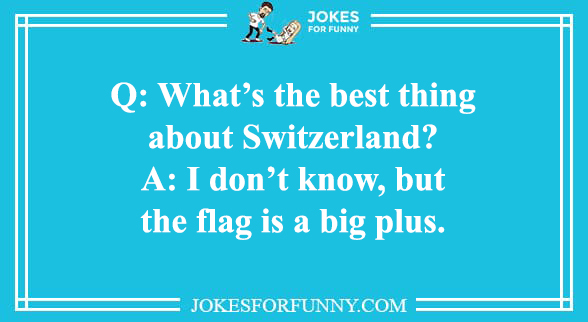 Today I went to jump with a parachute. Big mistake, I could say …
As I got there, a guy tells me he doesn't go unaccompanied and has to jump with him. The guy hooks me up, and we breathe in the chest, and then we jump.
After about 2 minutes of stopping, he asks me: "How long have you been an instructor?"