The best blonde jokes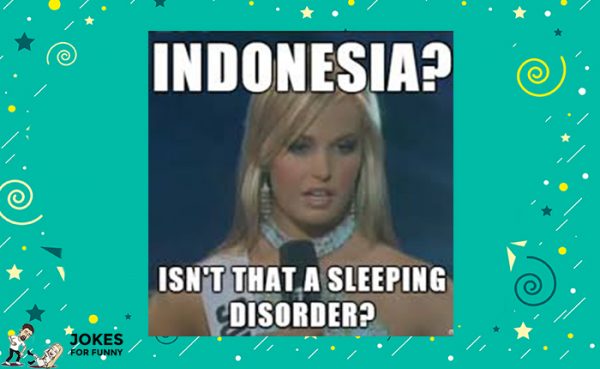 "Why doesn't he suit me?
-Well, he's smart and you're beautiful, and still blonde.
-I do not understand…
-Exactly!"
Two blondes:
-It is said that the size of the breasts is transmitted through the gene. Why then do I have the first dimension and my mother has the 4th one?
-I think you have your father's genes!
Why, after dinner, does the blonde lie on the stove?
– He wants to burn some calories.
The blonde said, "I might be blonde, but I know how many one is."
Blonde in a digital store.
– Tell me, what is the difference between these two mobile phones?
– The fact that one of them is an MP3 player and the second is a camera.
How do you keep a blonde in the shower all day?
You give them a shampoo that says "rinse, wash, and repeat."
When the blonde buys a car, she chooses it to match the shade of lipstick.
Why didn't 19 blondes go into a bar?
The sign said 21+.
One blonde said to another, "I made a second hole in my ear." "And do you hear better now?"
A blonde CEO asked one of her employees to write an entertaining twenty-minute speech for a presentation at a very important convention. When the CEO returned she was mad.
"Why did you write an hour long speech? Half the audience walked out before I finished!"
The employee replied, " I wrote a twenty-minute speech and I gave you two extra copies."
What do you get when you offer a blonde a penny for her thoughts? Change.
At a bar, he discusses two blondes from his early youth:
– Do you see the two men over there? Well, the one on the right is my husband, the one on the left is my lover.
– How strange … It's exactly the opposite for me!
The blonde asked, "Is that like a year and a half?"
The man said, "You really aren't sure if 18 months is a year and a half?" The blonde responded, "How am I supposed to know that? I don't have any kids."
A blonde walked into an electronics store and asked the clerk, "Can you show me an ovulating fan?" The clerks quick response, "You don't want one of those fans, it only works once a month."
A blonde went to city hall to register to vote. The clerk asked, "When is your birthday?" She replied, "August 15." The clerk asked, "What year?" The blonde said, "Every year.
A blonde called 911 and said in a whisper, "There's a prowler in my backyard." The operator quickly responded, "Give me your address and I'll send the police right away." The blonde thought for a minute and said, "I would, but don't want to get involved."
Two dumb blondes tell jokes with each other:
– I lost my dog!
– Give a newspaper ad!
– It's useless, he can't read or buy the newspaper!
– Why do dumb blonde run next to bikes?
– Because the bikes are going too fast and they cannot climb.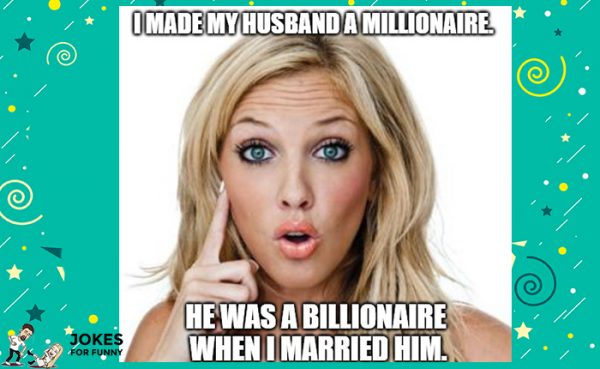 Between friends, blonde say jokes:
– I didn't sleep with my husband before the wedding. You?
– I do not know! How do you call your husband to answer you?
– Why are blonde not allowed to visit the Eiffel tower?
– Because he would give food to helicopters …
– How do you know the blonde from the secretariat sent an email?
– There are many thick envelopes in the disk drive.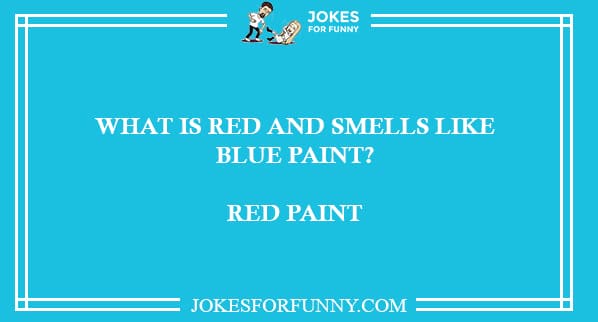 – How does a blonde kill a fish?
– He drowns.
A blonde tells a joke to a brunette:
– You know why I am more beautiful than you?
– Because you have blonde hair?
– No, because I study at Harvard!
Why can't a blonde call 112?
Because his dumb and she can't find the eleven key.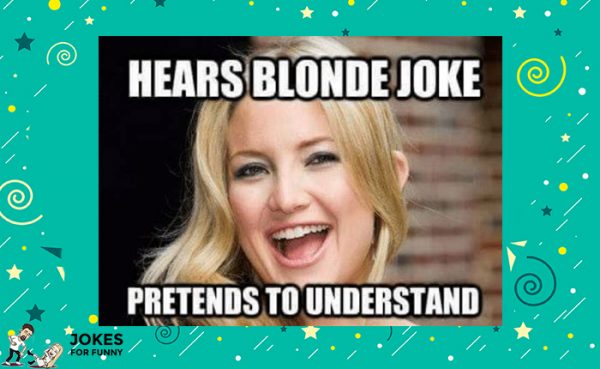 A dumb blonde joke
Why are you so smart?
Because I am brunette
A guy wanted to hang a blonde and try his luck:
– Madam, haven't we met at the zoo yesterday?
– Yes, but I do not know what cage I saw you …
A blonde goes to the mailbox, opens it, finds nothing, and leaves. The operation is repeated several times, and the blonde is really angry. A neighbor sees her and asks:
– Did something happen?
– My computer went crazy! He always tells me that I received the mail…
Funny blonde jokes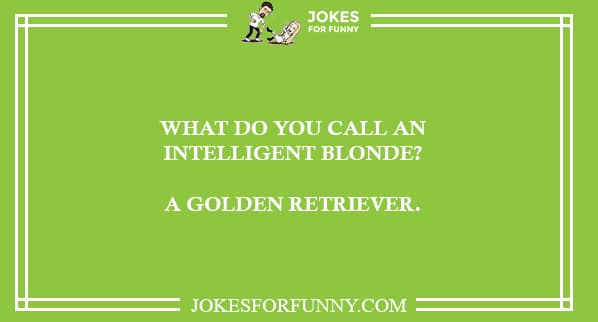 Two dumb blonde friends chat over coffee:
– I saw your friend yesterday, but she didn't see me.
– I know, he told me.
A blonde joke easy to understand?
Why is my hair yellow?
Because you are blonde
– What is the name of a blonde with a neuron?
– Pregnant.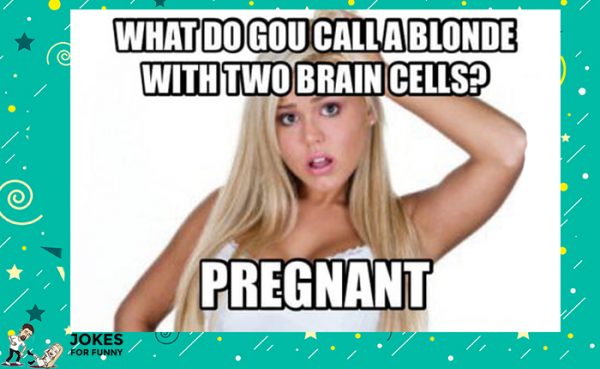 – How can you sink a submarine full of blonde?
– Knock on the door!
– What is the definition of eternity?
– Four blondes, in four cars, at an intersection. This is a dirty blonde joke.
A guy drinks in a bar and addresses the blonde from the table next door:
– I do not know whether to drink another row or to like it?
– Why are the banks with blonde so short?
– So that the brunettes can easily hold them.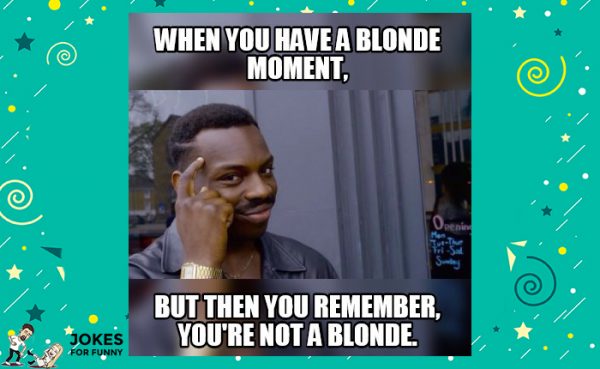 The blondes, angry, made a rally, being dissatisfied with the fact that there are so many banks on their behalf. On the billboard, he wrote: "Not all nonsense is blond!"
It's about to come out a dumb blonde joke: She is drawn to the right by a policeman.
– Madam, why are you driving a snake? Can't you go straight?
– Policeman, it's not my fault, wherever I turn, I hit a tree in front of me!
– Miss, this is the car freshener…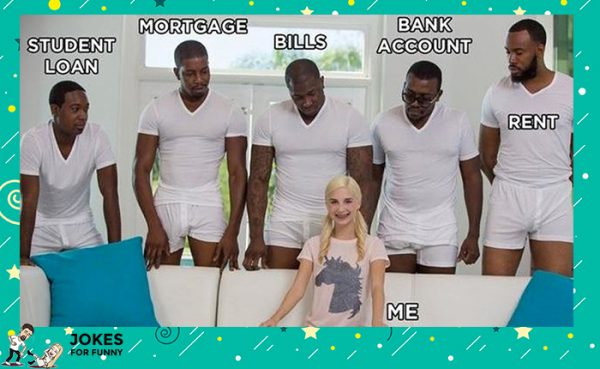 – Why do blonde have eyes like stars?
– Because they have a deep mind that night…
Can a blonde drive well a car?
Yes, only if she looks good on the glass of the car!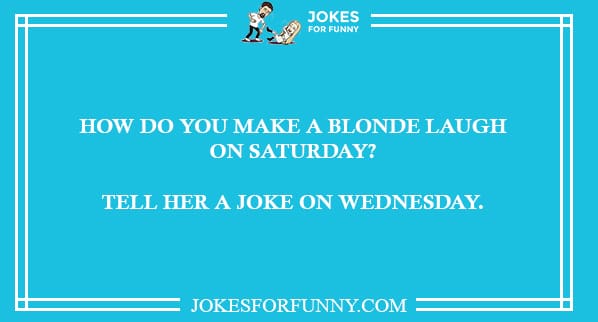 A blonde goes on a date with a brunette man. They go to a restaurant and speak. The guy was passionate about cars, and she not until he say about his February. From there, the blonde falls in love.
Among the most appreciated banks are those blonde jokes, which make the delight of any party. Even if they seem offended, even blonde know and laugh at those funny blonde jokes. It is already a classic assertion that there are no banks with blonde, that they are a reality, but it is just a wicked one.
There are countless blonde jokes that no one can claim to know them all. There are jokes with blonde at the wheel, with dirty blonde jokes or clean blonde jokes. We also have our selection of blonde jokes, which we invite you to "taste" properly.
Read more blonde, brunette and redhead jokes on our website.

A blonde goes to the doctor and complains that she misses everything.
– Doctor, if I touch my head with my finger it hurts, if it touches my foot it hurts, if it touches me on the belly again it hurts me … I miss everything..what do I have?
Dr: Are you a natural blonde?
Blonde: Yes
Dr: Then clearly, you have your finger with which you have broken.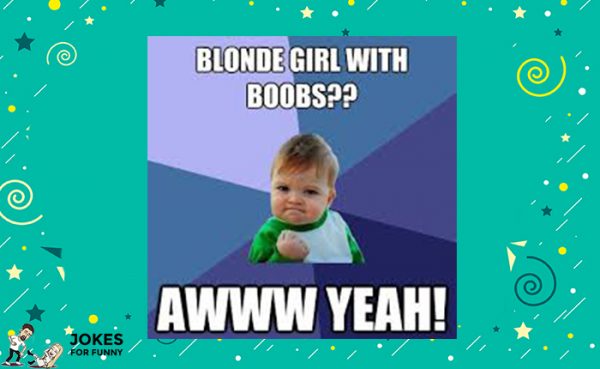 Q: What's the difference between a blonde and a Mercedes?
A: No one enters Mercedes
What is the difference between a blonde and a mirror?
A blonde gets bored faster.
Q: What is the difference between a blonde and a toilet?
A: A toilet is not taken after you use it.
A blonde comes to work crying in hoots. The boss asks her worried about what has happened to her:
"This morning, I received a phone call and learned that my mother was dead."
The boss consoles her: "Why don't you go home today to rest? And so we don't have much work to do.
The blonde refuses, saying that she works better to forget about the trouble.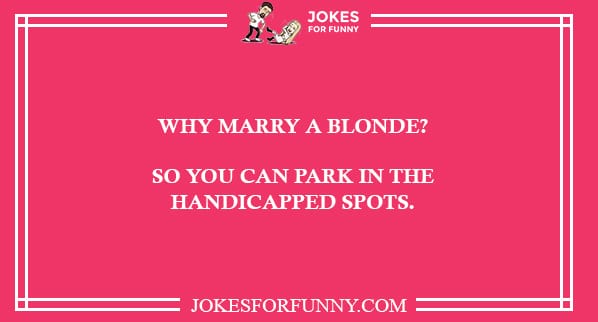 After 2 hours, the boss walks past her office and hears her crying even louder.
"What happened before?" she asks.
She responds: "My sister just called and told me that her mother was dead."
Q: Why do all blonde women paint?
A: To make them work well because everyone has read blondes.
Q: Do you know why I don't do army blondes?
A: Because of the moment they are ordered to lie down, they throw themselves on their backs.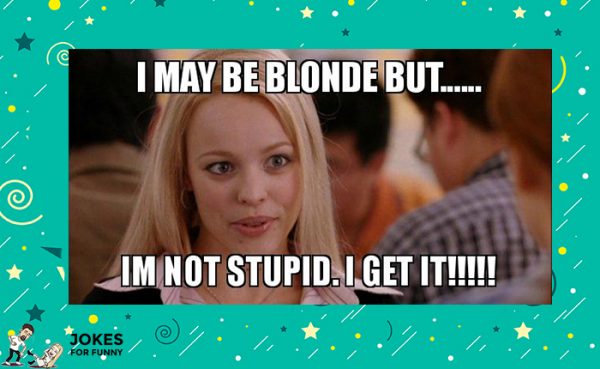 A blonde has, for the first time, an opportunity to converse in English, meeting some relatives from America:
-Hello, Diana, how do you feel?
Blonde responds excitedly:
-Phil Collins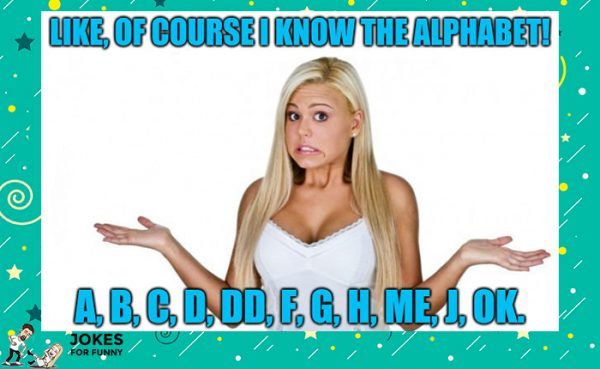 Q: What is the resemblance between a blonde and a bicycle?
A: In the absence of the camera, both support the fence.
What does a blonde ask for in a confectionery? A black woman.
What does a blonde do when she can't get out of the house? He gets under the bed.
A blonde goes to the library to look for a physics book. Which line do you think she's looking at? In turn, with Chinese language books.
A blonde sentenced to death is asked what her last wish is. After a moment of silence, the blonde says, "Let's see the series La Casa del Papel".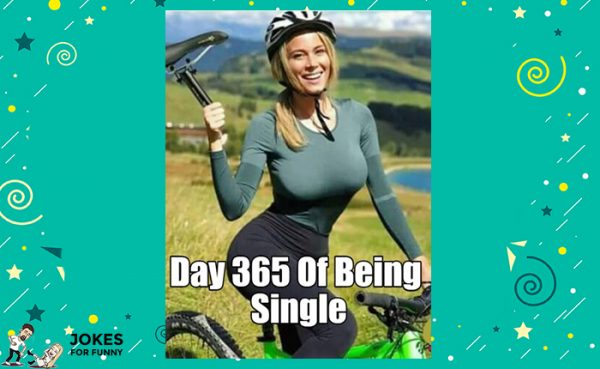 What do you have against blondes?
Hmmm… We have lipsticks, make-up, balloons, panties.
Where do you meet a blonde most often? At the saloon.
One day a blonde decides to cook.
– Guess what I want to cook today?
– What do you want?
– I make fried eggs.
After 5 minutes in the kitchen, a black smoke starts to appear, often, if you didn't see each other anymore.
Seeing the smoke and being in the area, 2 blacks stop at the blonde: What happened?
Nothing serious, I wanted to fry 1 egg, and it turned black when I put it on the fire, and I see that there was fog in the house.
A blonde walks through a forest, and at one point, she meets a fox.
Blonde: Are you kidding me?
Why can't a blonde write the number 99? Because he doesn't know which one to put first.
How do you greet some blondes? What wind brings you here!
How do you differentiate a blonde's brain from a tennis ball? The ball weighs 300 grams more.
After a full night, a blonde wakes up with a hangover the next day and sees written on the wall, "tomorrow I do not drink." To which she "Thank God, it's not today!"
Two blondes meet on the street:
– Now I was going to look for you.
– Well, go, because I'm not moving from here and I'm waiting for you here.
Two blondes:
– Hey, today it was great!
– What happened?
– I came across my ex today!
– So what?
– I was behind the wheel.