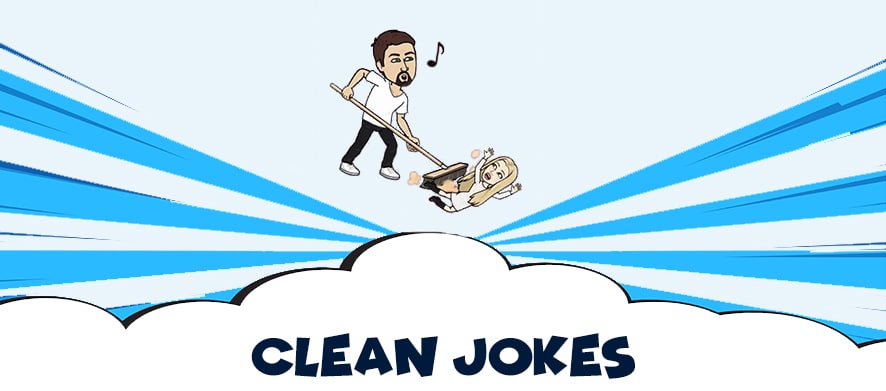 Q: Why was six scared of seven?
A: Because seven "ate" nine.
Q: Can a kangaroo jump higher than the Empire State Building?
A: Of course. The Empire State Building can't jump.
Q: Why couldn't the blonde add 10 + 5 on a calculator?
A: She couldn't find the "10" button.
A boy asks his father, "Dad, are bugs good to eat?" "That's disgusting. Don't talk about things like that over dinner," the dad replies. After dinner the father asks, "Now, son, what did you want to ask me?" "Oh, nothing," the boy says. "There was a bug in your soup, but now it's gone."
Instead of "the John," I call my toilet "the Jim." That way it sounds better when I say I go to the Jim first thing every morning.
Q: Why did the witches' team lose the baseball game?
A: Their bats flew away.
Q: Did you hear about the kidnapping at school?
A: It's okay. He woke up.
Q: Why couldn't the leopard play hide and seek?
A: Because he was always spotted.
Teacher: "Kids, what does the chicken give you?"
Student: "Meat!"
Teacher: "Very good! Now what does the pig give you?"
Student: "Bacon!"
Teacher: "Great! And what does the fat cow give you?"
Student: "Homework!"
My friend thinks he is smart. He told me an onion is the only food that makes you cry, so I threw a coconut at his face.
What happens to a frog's car when it breaks down?
It gets toad away.
Q: What did the duck say when he bought lipstick?
A: "Put it on my bill."
Q: Is Google male or female?
A: Female, because it doesn't let you finish a sentence before making a suggestion.
Kid 1: "Hey, I bet you're still a virgin."
Kid 2: "Yeah, I was a virgin until last night ."
Kid 1: "As if."
Kid 2: "Yeah, just ask your sister."
Kid 1: "I don't have a sister."
Kid 2: "You will in about nine months."
Q: What starts with E, ends with E, and has only 1 letter in it?
A: Envelope.
Math Teacher: "If I have 5 bottles in one hand and 6 in the other hand, what do I have?"
Student: "A drinking problem."
Q: Why did Adele cross the road?
A: To sing, "Hello from the other side!"
Teacher: "Which book has helped you the most in your life?"
Student: "My father's check book!"
How is Christmas like your job? You do all the work and the fat guy in the suit gets all the credit.
I was wondering why the ball kept getting bigger and bigger, and then it hit me.
Q: Why does Humpty Dumpty love autumn?
A: Because Humpty Dumpty had a great fall.
My friend told me he had the body of a Greek god. I had to explain to him that Buddha is not Greek.
Q: Why did the can crusher quit his job?
A: Because it was soda pressing.
Q: What do you call a pig that does karate?
A: A pork chop.
Q: Can February march?
A: No, but April may.
A man got hit in the head with a can of Coke, but he was alright because it was a soft drink.
Don't break anybody's heart; they only have 1. Break their bones; they have 206.
Q: What do computers eat for a snack?
A: Microchips!
Q: How do you make a tissue dance?
A: Put a little boogie in it.
Did you hear about the guy whose whole left side was cut off? He's all right now.