Funny duck jokes that will make you laugh
Two friends chat with each other:
-How was the hunting yesterday?
-Well, I shot a duck …
– Was it wild?
– I don't know, but the peasant who ran with my fork was safe.
Mandarine duck it's similar to the Oregon duck, do you know that?
Me neither
Hunting duck jokes
A hunter goes into a wild place to hunt ducks, and he meets Donald Duck.
Donald Duck sees the hunter and runs to him.
The hunter runs from Donald Duck!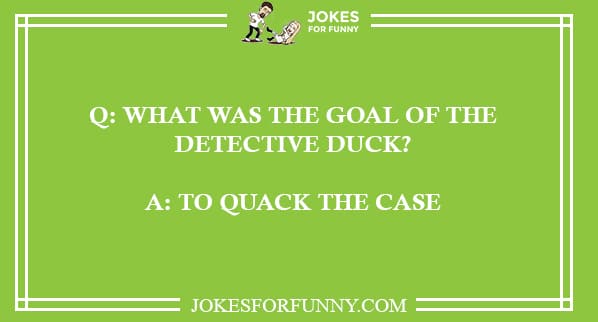 Bula asks her friends:
– Do you know how to look at a duck in the cellar? Simple as a duck joke. Take the miss, go to the cellar, look there …
A duck goes into a bar.
– We don't serve ducks, the bartender draws his attention
– Proceed very well. You can give me a glass of gin.
A peasant buys his latest BMW model. During the night, what to do was not to steal the thieves, and besides, his dog died. Put the rat, thinking that anyway it makes a lot of trouble and wakes up if there is something. Said and done. The next morning, he finds the rat with his beak, the car nowhere, and a ticket near the ratio: He didn't cut the duck, he wanted to crush!
A chimpanzee and a rat stood on the same line and waited for the movie to start. At one point, from the front row, a cow turns to them and tells the installment:
– Look at the chimpanzee and tell him that he is the most beautiful being you have ever seen!
The duck looks at the chimpanzee, then he says
– Tell him, my mother beats me if I lie!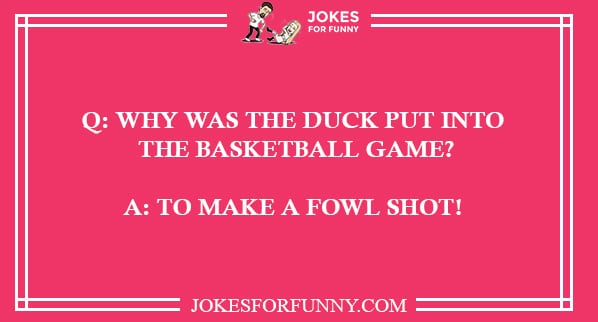 A duck more daring of its kind will walk one day on the village paths.
At one point, he sees an advertisement on a gate: "Don't enter, bad dog!". As the duck is known to be very curious, it takes its heart in its teeth, enters the yard and sees a Pekingese.
– Are you that bad dog anymore?
– Yes, shy Beijing answer.
– Why?
– Because I don't have anything!
The snail and a rat are good friends and spend more time together. One day the rat takes his heart to his teeth and tells the snail:
– You know, I would marry you.
-You are as light as the frame. You say this just because you know I have the house!
Funny duck jokes
A duck meets a chicken and tells a joke. Check the link to read further.
A weasel and a mouse were his best friends. They go out for a walk when, at one point, the hoarse cry cries:
– Attention! It's a black cat in front of you!
The mouse quietly replied:
Stay calm, I'm not superstitious…
-Why are the ducks nervous?
– That's how they are nervous.
On the eve of Easter, the house owners scattered in the yard colored eggs in different colors: blue, red, green, to be found by the little ones.
The rooster and the rat come, approach the eggs, look at them long, and then the rat says:
-Yes, it's time to have that discussion with the peacock…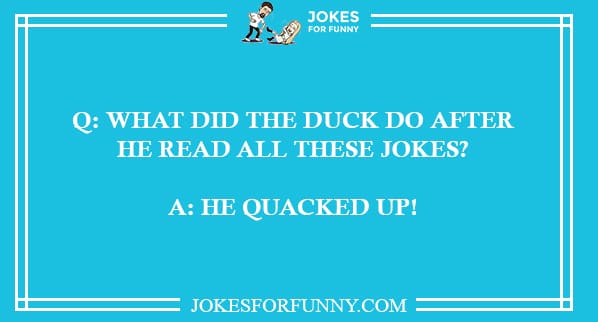 When it comes to duck jokes, things can get a little trickier because most of them focus on their grinding. Therefore, you would be tempted to think that those duck jokes can be quite boring.
However, people who understand what quality humor means have made efforts to create duck jokes to make you laugh over-saturated. Stimulate your imagination with this duck stories!
Therefore, prepare to continue laughing at the best duck jokes. In fact, it is a compilation of the best duck jokes, which you will love to share with your best friends. Also, do not hesitate to contribute to this chapter and invent your own duck jokes!