The best french jokes
A Frenchman is asked:
– What will you like best, wine or women?
French responds:
– Depends on the date of manufacture!
– How do you attract the attention of a French waiter?
– Commences in German!
Q: Why didn't the French help the English and Americans when it came to removing Saddam from Iraq?
A: Simple. Why does it? After all, the French did not help the Americans nor remove the Germans from Paris.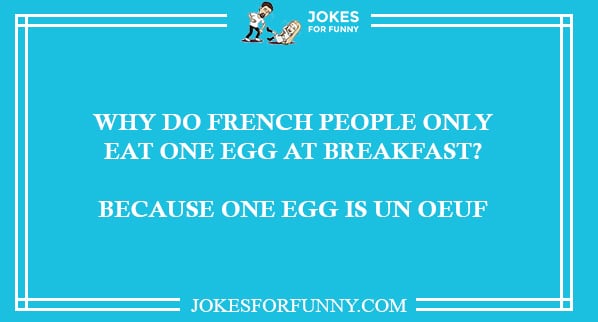 Q: How do you call, in two words, 100,000 Frenchmen with raised hands?
A: National Army.
Funny french jokes
Question on Radio London to listeners:
-How many banks are there about the French?
He won the following answer: One alone, the rest of the things that are said about the French are the empty truth.
It is said of the French that they were not born with the gland of humor. The only successful jokes, which everyone appreciates, are the French cars.
Do you know that canadians speak also french? Find what humor have canadians.
No one in France has time for bad jokes, cheap benches at street corners, or bustling parties. There everyone works non-stop, even children. Most dig at the Maginot Line, and the rest are working on new models of 38 cm heel shoes for their president.
French kiss jokes
– Why don't the French joke on other people's behalf?
– You can't bank on other people when you have a president like Macron, with that bitch of his wife.
– Why is it said about the French that they have no enemy among other peoples?
– Who would dare such a thing? How could you miss a woman who made a national day out of the day of a mass escape from prison?
The British believe that the French's fear of lice would no longer be a problem if their wives were to wax from time to time.
French perfumes are known worldwide, and they were invented from a long struggle with the smell. We, the others, which are not aristocrats, successfully use soap.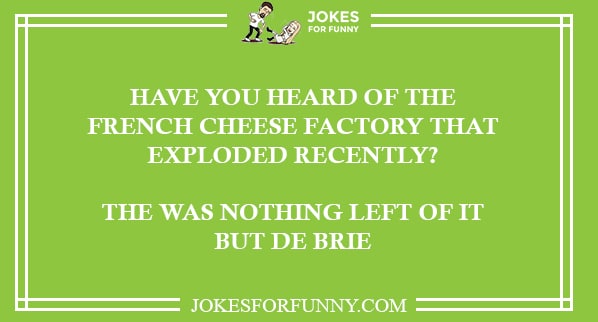 All English people also think that it is effortless to become friends with some French people: if you give them a banana and let them hang in the trees, they are your friends for life.
Sociologists believe that the French's traditional greeting, "Salam Habibi, " shows us that they are, in fact, a friendly and peaceful people.
There are no people who are not "married" in a few jokes. The Italians and the Scots hold the record, but there are also many French jokes, which will make you laugh out of your mouth.
Even if they do not please the Gauls' proud descendants, they are jokes with successful Frenchmen, who make the delight of any party between friends. Everyone knows at least a few jokes with French, Italians, Scots, Jews, even Canadians.
However, the champions of the French jokes are the English who does not escape any opportunity to offer a few more "arrows". Some of the best French jokes make up our selection, which we hope to your liking. If you know any other French jokes, we expect your reactions. We hope that our choices regarding jokes with the French are some to your liking.